The Contemporary Portrait
Artist Andy Johns is a painter of horses, their people, and their pets – in fact, all that is alive. While fully adept at realism, Andy is best known for her signature use of inventive color, employing a "fool-the-eye" juxtaposition of colors that do not appear in reality. Nearly all of her images in the last few years have been commissioned.
Andy's work can be found in the American Saddlebred Museum, The Museum of the Morgan Horse, galleries, juried art shows, as well as international and domestic private collections. She attends major horse shows across the country, including the Lexington Junior League, the World Championships in Louisville and Oklahoma City, the Kansas City American Royal, Blue Ridge Classic in Asheville, NC, Big D (Dallas, TX), Oklahoma Centennial and many more. Andy has been honored to create the artwork to advertise many of the above horse shows. In fact, her 2006 poster for the Lexington Junior League is their all-time best seller.
Featured on television, Good Morning Texas, and in publications such as The National Horseman, International Show Horse, The Morgan Horse, and Horses in Art, Andy's paintings have a wide appeal and are readily identified. Without fail, the human and equine faces she paints are superb, recognizable, even with unrealistic color. Her portraits have been selected by the Lexington Philharmonic and The All American Cup to promote the arts, the horse shows, and the breeds. Her painting of Carson Kressley was selected by Carson to represent him in the Saddlebred Museum's 2011 Celebrities and Saddlebreds exhibit.
Having earned a BS and MA in Art and English, Andy and her husband Steve, an architect, live in Texas. Daughter Christine is a teacher specializing in helping students with dyslexia, and son Matt is a director at Catholic Charities, Galveston diocese. He and his wife Mallory have two children.

The artist is very grateful for the opportunities presented by her clients and is currently accepting portrait commissions.
Andy's Horse Show Booth: The place to visit with friends.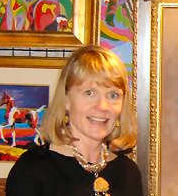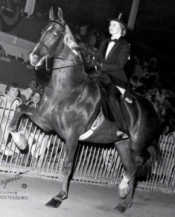 Andy & Fortune on Parade winning Amateur 3 Gaited Championship, Dayton, circa 1974.
Click image above for more
on Andy's show career.